Stainless Steel Mesh Herb Infusion Strainers
Regular price
Sale price
$2.49 USD
Unit price
per
Sale
Sold out
Our infusers are made with a rust-proof extra fine wire mesh screen that catches finer particles, and that ensures particle and debris free steeping. The attached chain allows you to hang the tea balls from a teapot, tea cup, coffee mug, panhandle or stockpot. These infusion strainers are easy to clean and dishwasher safe.
Tea ball strainers are essential for all loose leaf tea lovers. They're a perfect gift for events and special occasions, especially if you bundle them up with a selection of our loose leaf herbal tea blends.
Easy To Use: Specially designed with a hook and long chain to clasp onto teacups or pots for easy retrieval and removal when tea is done steeping.
Easy To Clean: After use, remove the soaked herbs, flush strainer with water and keep dry after cleaning.
Share
Order and get
20

reward points

Earn Teapoints by signing up for our loyalty rewards program
Shipping

Enjoy our 1-4 shipping guarantee, where your order will ship within 3 business days or your shipping is free! We typically ship via USPS however, when package size requires we ship via UPS. Yes, we do ship internationally!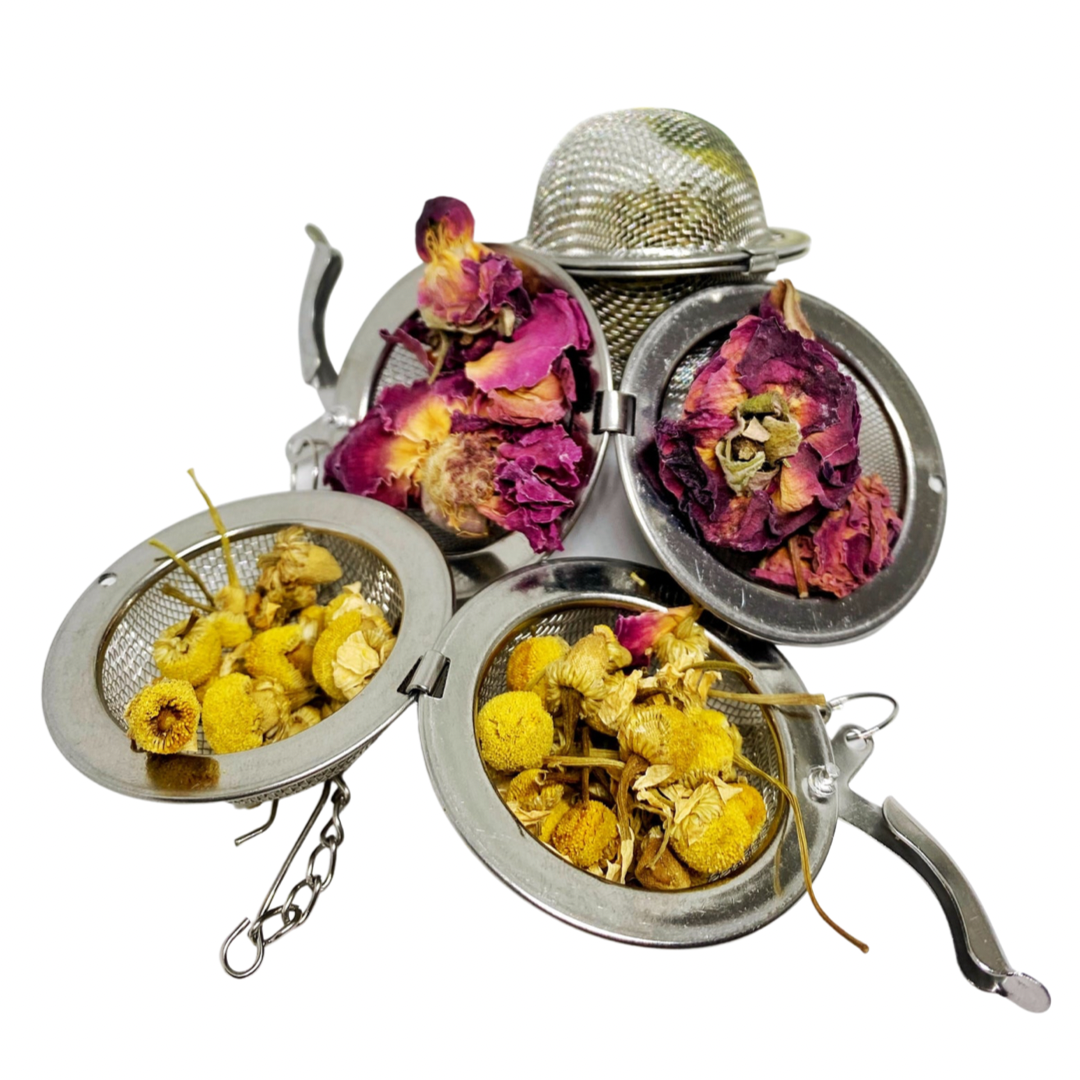 Subscribe & Save + Rewards
Enjoy a discount off your order today, by choosing to subscribe and save. Opting in for recurring subscriptions automatically builds rewards! Savings + Rewards = Win Win!
Let us blend you up something nice...
No matter if you're looking for a wellness tea or something more "fun" and flavorful, we've got them in store for you.
Not into tea much? That's fine, check out our self-care products!
Want to try before you buy?
Of course you can, just grab any of our tea blends with a 3-day free sample trial pack! If you like how it tastes, come back for more!
To the free samples >