Soothing & Soaking Herbal Bath Tea
Regular price
Sale price
$5.00 USD
Unit price
per
Sale
Sold out
Our Herbal Bath Tea will help you relax while restoring and rejuvenating your skin! Just add the bath tea bag to your hot bath (or boil in a pot first, then add to bath water) climb in and let it work! This blend is loaded with many skin nourishing benefits!
Full Ingredients: Sea salt coarse, organic orange peel, organic chamomile flowers, organic lavender, organic rosemary leaf, organic raspberry leaf, organic rosehips, organic peppermint, organic sage leaf, organic lemongrass, organic red rose buds and petals, organic bay leaf, and organic cloves.
Directions: Prepare a bath with warm/ hot water. Place bag directly in bath water and let set a few minutes, squeeze bag to release contents thoroughly; soak in the bath.
Key herbs included in this bath bag are:
🌹 Red Rose Buds & Petals
• Soothes Skin - The natural oils found in roses help retain moisture in the skin. This results in your skin feeling smooth and soft. The sugars in rose petals especially benefit those with sensitive skin.
• Fights Breakouts - The anti-bacterial properties found in rose makes it amazing for fighting acne and breakouts. Rose water can also help soothe irritated skin and reduce its redness. It is also known to heal skin ailments like eczema and psoriasis.
• Mood Lifter - In a bad mood or feel the stress? Known as a powerful mood enhancer, add rose petals to a warm bath will help you get rid of feelings of anxiety. Apart from being a detox for your body, it will also help you sleep better.
🌿 Chamomile - Has anti-inflammatory, antibacterial, anti-fungal, and antiseptic properties. It also helps reduce skin irritations, promotes a healthy skin glow and soothes the skin.
🌿 Lavender - Commonly used as a relaxant and de-stressor. It is also used to help fight fungal infections, skin conditions, anxiety and more!
🌿 Oats - Help soak up excess oil from the skin while treating dry skin. Oats contain antioxidant and anti-inflammatory properties. Oats are natural cleanser that help unclog pores while removing dead skin cells.
You're sure to enjoy this healing herbal bath tea.
Share
How to use

Add a desired amount of product into a hot bath, either pour in directly or fill a mesh bath bag.

Pray, soak, & relax.
Shipping

Enjoy our 1-4 shipping guarantee, where your order will ship within 3 business days or your shipping is free! We typically ship via USPS however, when package size requires we ship via UPS. Yes, we do ship internationally!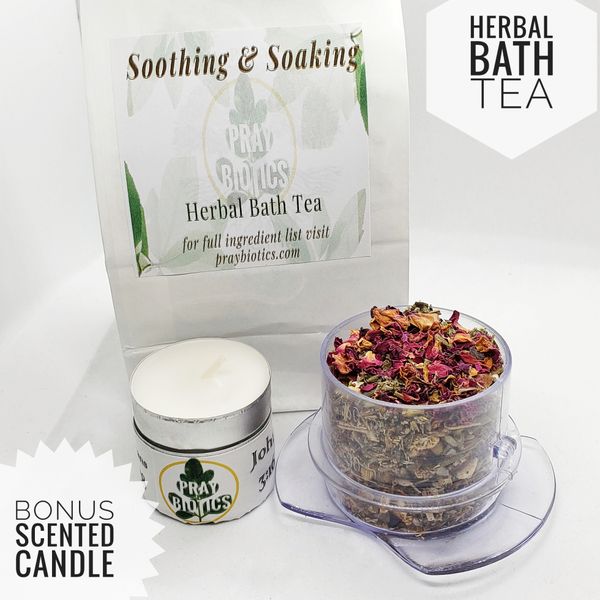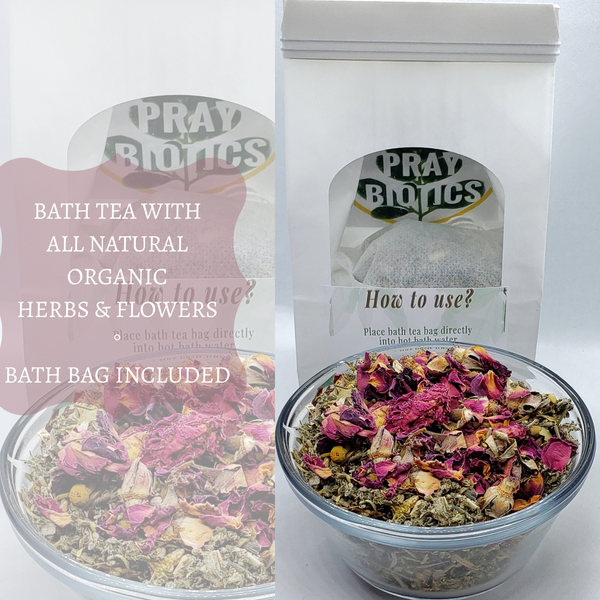 Subscribe & Save + Rewards
Enjoy a discount off your order today, by choosing to subscribe and save. Opting in for recurring subscriptions automatically builds rewards! Savings + Rewards = Win Win!
Treat yourself to something nice...
It's okay to romance yourself from time to time. Pull out all the stops! Let us help you, treat you.
Enjoy the moment fully by including herbal tea into your self-care routine.
Recommended blend for a relaxing soak: Sip -N- Soothe Tea.
Romans 8:28

And we know that all things work together for good to them that love God, to them who are the called according to his purpose.
Want to try before you buy?
Of course you can, just grab any of our tea blends with a 3-day free sample trial pack! If you like how it tastes, come back for more!
To the free samples >