Cerasee Tea Leaves | Bitter Melon Jamaican Cerasee Assorosi Plant
Regular price
Sale price
$7.00 USD
Unit price
per
Sale
Sold out
Jamaican Cerasee (Bitter Melon) (Assorosi Plant) is naturally detoxifying when prepared as an herbal tea.

It's known for its bitter flavor throughout the Caribbean, to treat parasitic worms, diabetes, psoriasis, eczema, and rashes, lower high blood pressure, treat colds/ viruses, and reduce menstrual pains.
This century-old ancient medicine of a miracle plant is still unknown to the New World. This powerful herb has many benefits and virtues. It kills infections, viruses, bacteria, parasites, and stomach worms. It is both anti-microbial and anti-oxidant. It treats all types of flu, and colds, and relieves many symptoms of Covid-19 (coronavirus). It helps lower blood sugar diabetes and blood pressure, it relieves constipation, gas, bloating, flatulence, and upset stomach. Detox the entire body with this bitter but oh so powerful herb. Cerasee cleanses and purifies the entire digestive system the liver, stomach, intestines, kidneys, and colon. It is very good for the circulatory system and relieves stress and anxiety. Cerasee (Bitter Melon Tea) makes your immune system stronger and is excellent for your well-being. The vines and leaves arrive hand-harvested, sun-dried, and ready for infusion.
Share
How to use

Steep your tea in 8 to 12 ounces of boiling water. The more water used the less potent the tea, per 1 tsp of herbs. The less water, the more potent the tea, both in effectiveness and in flavor.

Steep time varies by blend but will range anywhere from 4-7 minutes (see directions on packaging).

Add additional flavors if desired (sugar, lemon slice, honey, etc).

Allow tea to cool prior to drinking.

Remember, pray, sip, and enjoy.
Shipping

Enjoy our 1-3 shipping guarantee, where your order will ship within 3 business days or your shipping is free! We typically ship via USPS however, when package size requires we ship via UPS. Yes, we do ship internationally!
Order and get
70

reward points

Earn Teapoints by signing up for our loyalty rewards program!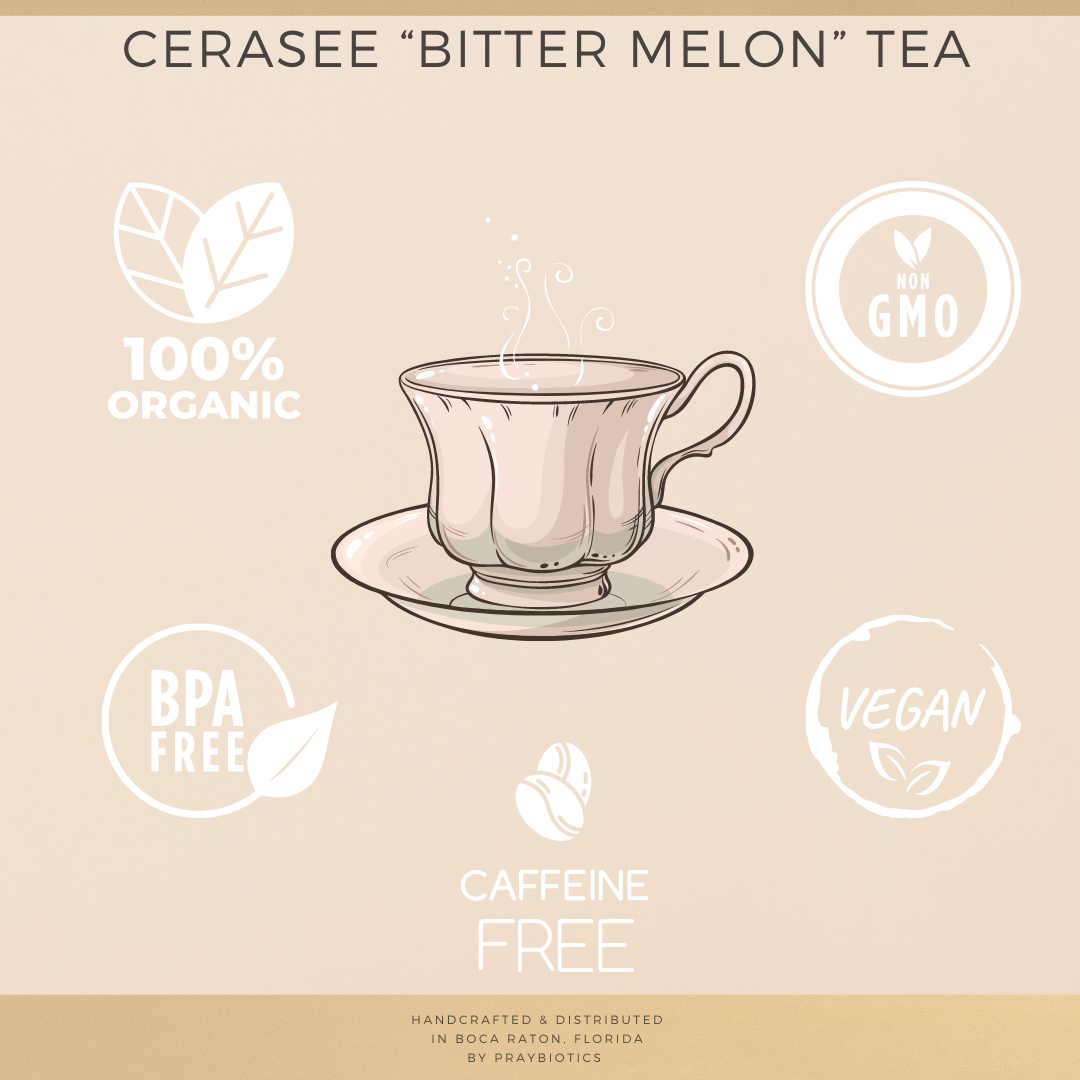 Subscribe & Save + Rewards
Enjoy a discount off your order today, by choosing to subscribe and save. Opting in for recurring subscriptions automatically builds rewards! Savings + Rewards = Win Win!
Let us blend you up something nice...
No matter if you're looking for a wellness tea or something more "fun" and flavorful, we've got them in store for you.
Not into tea much? That's fine, check out our self-care products!
Want to try before you buy?
Of course you can, just grab any of our tea blends with a 3-day free sample trial pack! If you like how it tastes, come back for more!
To the free samples >